Dymo LabelWriter Warranty & Support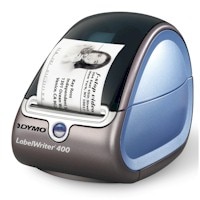 All new '400 series' Dymo LabelWriters and many of the predecessed '300 series' LabelWriters come with a Limited 2 year warranty (see below for full warranty description). If you are unsure of whether your model is covered by the 2 please call Dymo on (203) 588-2500 and they will verify this for you.

Your purchase also entitles you to Free Technical Support on your Dymo LabelWriter and Dymo software, but does not necessarily provide free techincal support on compatibility or usage with 3rd-party software applications..

It is important that you keep your Sales Invoice from Labelcity (which was emailed to you when your order shipped). If you do not have a copy of it, simply log into your account, and you will find it in the Order Status section. Need help? call us on 1-888-999-6333 or send en email to sales@labelcity.com and we'll be glad to help.


Contact details for Dymo's technical support team:
Telephone : (203) 588-2500 9am-8pm Mon-Fri
Dymo Support Website and Knowledge Base : click here
Dymo Contacts List : click here
Labelcity Contacts list : click here





TWO YEAR LIMITED WARRANTY (as of 7/24/2006)

Your DYMO® printer comes with a warranty against defects in materials, design, or workmanship, for two years from the original date of purchase, when used in accordance with all operating instructions. Normal wear and tear is not covered, nor is excessive use, abuse or damage caused by a user either intentionally or accidentally.

DYMO® printers are warranted for use only with DYMO® brand and DYMO-approved printing media (such as labels). DYMO will not be responsible for malfunction or damage caused by the use of other media.

EXCEPT AS PROVIDED HEREIN, DYMO MAKES NO OTHER WARRANTIES, EXPRESS OR IMPLIED, AND DYMO SPECIFICALLY EXCLUDES WARRANTIES OF MERCHANTABILITY AND FITNESS FOR A PARTICULAR PURPOSE. DYMO'S LIABILITY UNDER THIS WARRANTY SHALL BE LIMITED TO REPAIR OR REPLACEMENT OF THE PRINTER. DYMO SHALL NOT BE RESPONSIBLE FOR ANY INCIDENTAL OR CONSEQUENTIAL DAMAGES, WHETHER OR NOT FORESEEABLE.

Proof of purchase showing the date of purchase is required for warranty service.

You may obtain warranty service by contacting DYMO's technical support department for a return authorization number. Products sent to DYMO for repair without authorization will be returned to you at your expense.

Contact DYMO's technical support department at (203) 588-2500 between 9 A.M. and 8 P.M. Eastern time. A technical support specialist will ask you to describe the problem and provide the product's serial number. Upon confirmation of the defect, the service representative will give you a Return Material Authorization (RMA) for you to use and return the printer.

The RMA number must be clearly written on the side of the shipping container in which you return the LabelWriter. Unless otherwise instructed by us, the product must be sent freight prepaid to the following repair center:

DYMO Service Center RMA#xxxxxx-xxxxxx (place your RA# here) 30 Commerce Road Stamford, CT 06902-5506

DYMO will repair the defects covered under warranty at no charge within approximately three working days. DYMO will return the repaired product to you using an equivalent shipping method.

The original warranty on the printer remains – it does not restart from the repair date.

Except as otherwise provided by law, you may be required to pay all shipping charges, and you will be so notified at the time that you request an RMA from DYMO. Upon return of the printer and finding that the service required is covered by this warranty, we may repair or replace the printer, in our discretion.

DYMO will notify you if your printer is not eligible for warranty service, and will repair such printers, for a reasonable charge, only after authorization from you.

THIS WARRANTY GIVES YOU SPECIFIC LEGAL RIGHTS, AND YOU MAY ALSO HAVE OTHER RIGHTS WHICH VARY FROM STATE TO STATE AND COUNTRY TO COUNTRY.