<%=include('/menu.txt')%>
Using a Dymo LabelWriter with Quickbooks
For users of QuickBooks, or for people who are contemplating the purchase of QuickBooks, there's a fantastic little plug-in which Dymo developed that enables you to print labels in a hurry. The Dymo plug-in for QuickBooks adds an icon to your Quickbooks menu bar and allows you to print an Address/Shipping label for a single contact, a range of contacts or the entire database in a few clicks - without ever needing to re-type an address.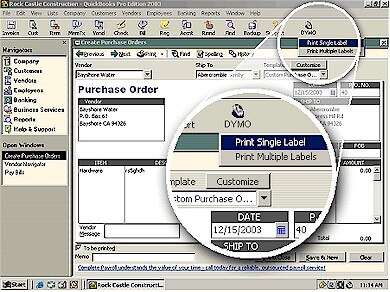 For users of QuickBooks Basic, Pro and Premier (2002-2004, US Version) the plug-in allows you to print a label for a current Customer or Vendor from within Invoice, Sales Receipt and Purchase Order functions (respectively).

For users of QuickBooks Pro (2002-2004, US Version) the plug-in also allows you to print labels for a current contact, a selection of contacts or the entire contact list from within the Sales Receipt and Purchase order functions.

Note: the QuickBooks plug-in is for Windows only and only works with QuickBooks 2002-2004 (US versions). It is not compatible with QuickBooks On-Line Edition.


Key features of Dymo's Quickbooks plug-in:
Print labels right from QuickBooks toolbar
Print labels from any of the seven QuickBooks navigator selections
Print single labels, a selection of contacts, or the entire contact database
(depending on Quickbooks version)
Key features of Dymo LabelWriters:
Eliminates the hassle of printing labels with a desktop or network printer
Direct thermal print technology eliminates ribbons, toner and ink cartridges
300dpi resolution for laser sharp labels
Prints speeds up to 55 Address Labels per minute
Works with DYMO Address Fixer to automatically proofread addresses and add the ZIP+4.
Prints Code 39, Code 128, Codabar, UPC-A/E, EAN-8/13/128, ITF-14 and Interleaved 2 of 5 bar codes.
can be used with or without Quickbooks software
Easy to share over a network.
Works with Windows 98, 2000, Me, XP and MAC OS 8 and above.
LabelWriter Models:
click here to compare LabelWriters and see the current pricing
If you want to learn a lot more about QuickBooks software solutions, then use the links to the left side of this page to navigate your way around.
Labelcity is the largest specialist online retailer of Dymo, CoStar and Seiko label printers and supplies. We stock the entire range of Dymo LabelWriter printers, accessories and supplies, the entire range of accessories and label supplies for the superseded CoStar range of printers and the entire range of label supplies for the Seiko Smart Label Printer range. Visit our online shop Labelcity.com to buy printers and labels. Our interest in QuickBooks software comes from the compatibility of such software with Dymo LabelWriter printers which enables users to quickly and easily print Address and Shipping Labels right from QuickBooks software.