Dymo Stamps Overview > How does it work? > What do I need? > Labels/Supplies


Dymo Stamps - What do I need ?
There are a few things you need to get started with DYMO Stamps™. You will naturally need a Dymo LabelWriter in order to print your stamps, but you will also need to setup your free Dymo Stamps account, and if you don't already have some blank stamps, you will need to buy some (you can order these from within the Dymo Stamps software).


Step 1 : buy a Dymo LabelWriter
To use Dymo Stamps you will need a Dymo LabelWriter, and to be more precise, you will need one of Dymo's high performance models, like the following (note: they all print up to 55 Address Labels per minute):


LabelWriter 400 Turbo
holds one roll of Dymo Stamps OR one roll of Dymo Labels


LabelWriter Twin Turbo
holds two rolls of Labels/Stamps so you can print your Dymo Stamp on one side of the LabelWriter and your Address Label on the other side


LabelWriter DUO
holds one roll of Dymo Stamps OR one roll of Dymo Labels; (also holds one Dymo D1 label cartridge for printing more durable/ weatherproof plastic labels)



Our recommendation is the LabelWriter Twin Turbo and the reasoning is simple. After you've printed your Dymo Stamp, you will still need to put an address on your envelope/package. With the Twin Turbo, you can have your Dymo Stamps printing on one side of the printer, and have your Address or Shipping Labels printing on the other side. (just like in the picture below)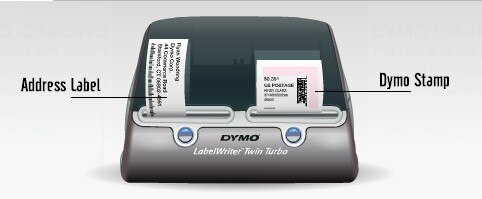 Step 2 : sign up for Dymo Stamps
When you buy a new LabelWriter you are given instructions on how to sign up for Dymo Stamps. It's easy, it's FREE, and should only take a few minutes. If you already own one of the high-performace Dymo LabelWriters, click here to sign up for DYMO Stamps now.


Step 3 : buy Postage
Once you open your account, you can purchase an initial amount of postage (minimum is $10), along with blank stamp rolls (when you buy a new LabelWriter 400 Turbo, Twin Turbo or DUO, you actually get a starter roll of Dymo Stamps).

To buy your postage and blank stamps, you just log into your Dymo Stamps account and follow the prompts - it is quick and easy.

To buy your Address/Shipping labels, just visit our online shop and if you spend $25 or more you get FREE Ground Shipping.




Now you're ready to start printing Stamps!
click here to see where to buy your blank stamps and Address / Shipping Labels