Dymo LabelWriter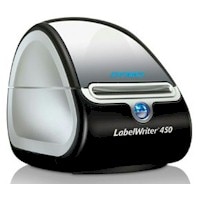 Dymo LabelWriter printers are market's leading Desktop Labeling Machines. They have a small footprint, are compatible with all current versions of Windows and Macintosh, and support a wide range of label sizes making them extremely versatile.




In August 2009, Dymo introduced the new LabelWriter 450 series which replaced the ever-popular LabelWriter 400 series. The new 450 series offers print speeds of up to 71 address labels per minute, and also benefit from features such as power-saving mode and a slightly modified spool system that enables even faster loading of new label rolls. As always, Dymo offers the widest range of supplies for desktop label printers.


Current LabelWriter Models
Following are the latest / current models from Dymo. Want to see a full comparion of the various models? ---> Dymo LabelWriter Comparison



LabelWriter Labels
Labelcity stocks label supplies for all of the current model Dymo Label Writer models, and also for the predeccessed models. In the range are Address labels, Shipping, Postage, Filing, CD/DVD, Diskette, Mail, eBay, payPal, File Folders, Price Tags, Jewelry..... as well as a range of Name Badge Labels, tags and other supplies.

The most popular are : 30252 Address Labels, 30256 Large Shipping Labels, 30323 Shipping Labels, 30321 Large Address Labels, 30330 Return Address Labels, 30387 Internet Postage Labels and 30320 Address Labels (click here for a full list of Dymo LabelWriter Labels)


Can I still buy Labels for my CoStar LabelWriter® ?
The old CoStar LabelWriters use the same labels as current Dymo LabelWriters (Address, Shipping, Multipurpose, Diskette, File Folder). Dymo are reknowned for making bacwards-compatible products and it is a testament to their success. When sourcing labels for use in any CoStar/Dymo printer be careful that you are buying quality tested labels. click here to buy Labels for your CoStar LabelWriter