Home > Dymo RhinoPro > RhinoPro 5000 Hard Case Kit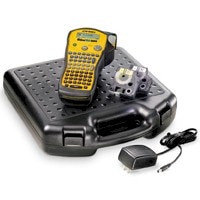 Dymo RhinoPro 5000 Hard Case Kit
For the fastest, easiest way to use our fastest, most professional portable worksite labeler, get hold of this complete kit, including rugged carry case. With all you need to hit the ground running, this handy hardcase kit gives you the versatility and convenience of our most popular commercial labeling tool, two types of label cassettes, six batteries, AC adapter and instructions.



The cornerstone of this kit is the RhinoPRO 5000. In its tough rubber bumper, RhinoPRO 500 offers genuine signs of quality including a large backlit display, battery light indicator, impact-resistant rubber bumper, awesome hot keys that help you zip your way through label-intense installations, an advanced wire gauge function and more.



Download our complete Info Guide / Price List / Order Form for the Rhino Pro (317kb)

What's as good as the tool itself? The labels. They are easy-to-peel split-back available in flexible nylon and permanent polyester. Best of all, they're chemical, moisture, solvent, heat and smear-resistant always with powerful adhesives that won't let go. Sign your work with the best: RhinoPRO 5000. Prints on four label widths: 3/8" (9 mm), 1/2" (12 mm) and 3/4" (19 mm) wide.

Kit contents:

hard carry case
RhinoPRO 5000 with impact-resistant bumper
one 3/4" (19mm) flexible nylon label cassette for wire and cable marking
one 3/4" (19mm) permanent polyester RhinoPRO label cassette for a variety of flat and textured surfaces
6 AA batteries
AC adapter
User Manual



Rhino Pro 5000 Hard Case Kit Features / Specifications
Meets ANSI/TIA/EIA-606-A labeling standards.
"Hot keys" provide automatic label formatting for wires and cables, terminal blocks, patch panels, vertical and fixed length labeling.
Advanced wire gauge function. Just select the wire gauge or cable size and RhinoPRO sets up the label precisely.
Features common datacom and electrical symbols: ohm, ground, phone, data and fax
Prints up to 12 charactesr for vertical wraps.
Automatically underlines 6's and 9's for wire and cable marking.
Smear-proof thermal printing resists solvents, heat and moisture.
Ten-label memory for fast results.
Prints five text sizes.
Includes impact-resistant rubber bumper.
Automatic shut-off saves battery life.
Bright yellow color means this tool won't get lost.
Fits in the palm of your hand.
Uses 6 AA batteries (included).
Weighs just over 1 lb.
Package includes hard carry case, RhinoPRO 5000 with impact-resistant bumper, one 3/4" (19mm) flexible nylon label cassette for wire and cable marking, one 3/4" (19mm) permanent polyester RhinoPRO label cassette for a variety of flat and textured surfaces, 6 AA batteries, AC adapter, User Manual
Learn more about the Rhino Pro 5000 Hardcase Kit in our FAQ section ...... Following are some examples: