Home > Dymo RhinoPro > RhinoPro 3000 Hard Case Kit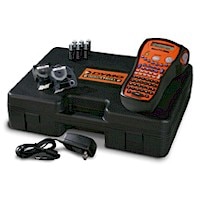 Dymo RhinoPro 3000 Hard Case Kit
You install high-end residential systems so your reputation deserves the highest caliber of label quality. The RhinoPRO 3000 portable represents an installer's dream: all the features you could need in a tool that's easy to handle and afford. A great example is the user-friendly hot keys for common applications like wire wrapping, flagging and distribution panels.



With its intuitive, simple interface, the RhinoPRO 3000 will save you time every time you reach for it. And with its thermal-transfer printing, your labeling won't be compromised by moisture, heat, smearing, solvents or chemicals. The RhinoPro 3000 comes with an impact-resistant rubber bumper to survive a fall from your ladder or belt. We made it bright orange so it won't get lost in your truck.



Download our complete Info Guide / Price List / Order Form for the Rhino Pro (317kb)

With super strong adhesives that stick and last in heavy-duty environments, RhinoPro tapes attach (and latch on) to curved, textured, and highly textured surfaces. Use flexible nylon or heat shrink tube labels for wire and cable marking, permanent polyester for a variety of flat and textured surfaces and metallized permanent polyester for asset tagging and other general identification applications. Most are easy-to-peel, split-back design. Prints on three label widths: 1/4" (6 mm), 3/8" (9 mm), and 1/2" (12 mm).

Kit Contents:
Rhino PRO 3000 label printer
Impact-resistant rubber bumper
one 1/2" (12 mm) wide flexible nylon tape (Black print on white tape)
one 1/2" (12 mm) wide permanent polyester tape (Black print on white tape)
AC power adapter
6x AA batteries
User Manual
hard carry case



RhinoPro 3000 Hard Case Kit Features / Specifications
Hot keys make it simple to format labels for wire/cable wraps (vertical and horizontal), flagging, fixed length, vertical labels and distribution panels.
Text Hot Keys help label frequently-used locations and equipment: Location, Audio/Video, Voice/Data and Security equipment.
25 memory locations for storing labels
Prints five font sizes, horizontally and vertically
13 character display
Serialization of text and numerical information
Backlit display for working in dimly lit environments.
Battery requirements: 6 AA batteries included
Weighs less than one pound
Includes RhinoPRO 3000, impact-resistant rubber bumper, one 1/2" (12 mm) wide flexible nylon tape, one 1/2" (12 mm) wide permanent polyester tape, AC power adapter and User Manual
Comes with durable hardcase carry bcase
Learn more about the Rhino Pro 3000 Hardcase Kit in our FAQ section ...... Following are some examples: