Home > Dymo RhinoPro > RhinoPro 1000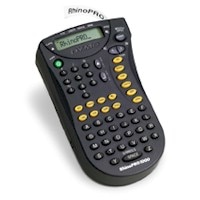 Dymo RhinoPro 1000
This portable industrial label printer is entry level in terms of simplicity, but advanced when it comes to features. Easy to handle and afford, it fits in the palm of your hand and is economically priced.



With its intuitive, simple interface, the Rhino PRO 1000 will save you time labeling computer, audio and video cables and components, light switches and circuit breaker panels, shelves, storage cabinets, tools and much more. Thanks to its thermal-transfer printing, your labeling wont be compromised by moisture, heat or smearing.



Download our complete Info Guide / Price List / Order Form for the Rhino Pro (317kb)

RhinoPro labels are just as tough as your tool with super strong adhesives that stick and last on a variety of surfaces, including curved, textured, and highly textured surfaces. All tapesare easy-to-peel, some with a split-back design. Prints on flexible nylon, permanent polyester and heat shrink tube labels in two label widths: 3/8" (9 mm) and 1/2" (12 mm).


RhinoPro 1000 Features / Specifications
Hot keys provide automatic label formatting for flag and fixed length labels
Dedicated keys for common audio/video, electrical and safety symbols
Last label memory
Prints up to two lines in three font sizes, horizontally and vertically
Features italics, underline and boxed text
Prints common symbols and multiple copies
11 character display
Serialization of text and numerical information
Battery requirements: 6 AAA batteries (not included)
Weighs less than one pound
Package includes RhinoPRO 1000, one black and white 1/2" (12 mm) wide flexible nylon tape, User Manual
Learn more about the Rhino Pro 1000 via our FAQ section ...... Following are some examples: