Dymo :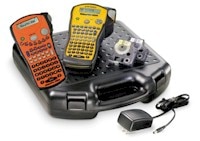 Dymo RhinoPro
Dymo's RhinoPro range of handheld label machines are targeted at Domestic and Commercial Datacom/Electrical Installers and Maintenance Professionals. RhinoPro label machines enable users to quickly create "professional" labels for application to: cables, wires, patch panels, circuit boards, infrastructure equipment, name plates, security panels, shelving.... and virtually any instance where a long-lasting durable label is required.



Dymo offer 3 professional RhinoPro models (RhinoPro 1000, RhinoPro 3000 and RhinoPro 5000). The RhinoPro 1000 is suited to home handymen and light usage by electrical contractors. The RhinoPro 3000 is suited more to Domestic and Commercial Installers of Home Automation, Audio-Visual Equipment, Entertainment Systems, HVAC and Security Systems. The RhinoPro 5000 is targeted more towards the Datacom/Electrical cabling expert and is slightly different to the 3000 in a number of areas. First it prints on all the same labels as the 3000, but also on 3/4" (19mm) labels too. Second, it has the ability to print barcodes (code 39 and code 128).... and third, it has a special "wire gauge function" which actually formats a label automatically depending on the thickness of the cable it is being applied to.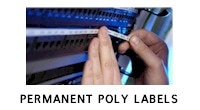 Pictured on this page are a number of the more common uses for RhinoPRO labels. The first picture shows a Permanent Polyester label being applied to a patch panel. This label can be created by a RhinoPRO 3000 or 5000 using the 'Distribution Panel' feature - enables you to setup the distance between each port on the patch panel so that you can print one continuous label which will line up correctly with each port.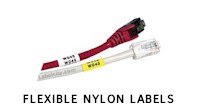 The second picture down shows flexible nylon labels which were applied to data cables. These labels can be printed on either the RhinoPRO 3000 or 5000.

Flexible Nylon labels are specifically designed to be applied to curved surfaces, and in the case of being applied to cables, they will actually bend and stretch with the cable without coming loose or peeling off.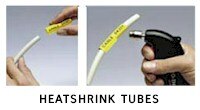 The bottom picture shows a Heatshrink Tube being applied to a cable using a heat gun. Heatshrink Tubes are a new addition to the RhinoPro range and are available in 4 different sizes (1/4", 3/8", 1/2" and 3/4").