Dymo Drivers & Downloads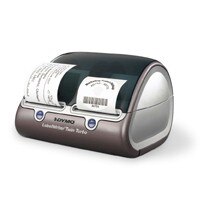 Below is a list of all of all the DYMO software and driver file downloads, along with links to download them.
For the latest software and drivers check our new dedicated LabelWriter Software / Tech Support Page (click here)
IMPORTANT NOTE: The "Read Me First" documents contain valuable information about each file, including system requirements and installation instructions.

It is strongly recommended that you read the "Read Me First" document for a file before you download and install it, in order to verify that you are downloading the correct file and to avoid any issues.
Last updated: May 23rd, 2010
Software for DYMO LabelWriter
Windows
File

Description

Read Me First Document

File Download

NEW DYMO Label Software Application Version 8.2 for Windows XP, Windows Vista, and Windows 7 ONLY

Software and drivers for most LabelWriter 300 series printers and all LabelWriter 400 and 450 series label printers (including the LabelWriter 4XL).  See the Read Me file for a complete list of supported printers.

LabelWriter 300, 400, and 450 Series Print Drivers for Windows XP, Windows Vista, Windows 7

This file contains the standard printer drivers for most LabelWriter 300 series printers and all LabelWriter 400 and 450 series label printers (including the LabelWriter 4XL).  See the Read Me file for a complete list of supported printers.

XP/Vista/7 32 bit
Click Here

Vista/7 64 bit
Click Here

DYMO Label Software Application Version 7.8 for Windows 2000/XP/Vista ONLY

Software and drivers for most LabelWriter 300 series printers and all 400 series printers.  See the Read Me file for a complete list of supported printers.

DYMO Label Software Application Version 7.5 for Windows 98 and ME ONLY

Software and drivers for the LabelWriter 300 and 400 series printers

DYMO Stamps Application for Windows 2000/XP/Vista

Software for the LabelWriter 400 Turbo, Duo, and Twin Turbo

DYMO Label Software Application Version 6.1.1 for Windows 98/ME/2000/XP

Software and drivers for the LabelWriter XL and EL series

DYMO Label Software Application Version 4.2.1 for Windows 95 and NT ONLY

Software and drivers for the LabelWriter XL, EL, and 300 series with a serial connection

LabelWriter 64-bit Print Drivers for Windows XP Professional x64

This file contains the 64-bit print drivers for USB connected 330 and 330 Turbo LabelWriter printers and 400 series LabelWriter printers (including the Duo and Twin Turbo). This is a BETA release. For more information please see the Read Me document.

LabelWriter 300 and 400 Series Print Drivers for Windows 98/ME/2000/XP

This file contains the print drivers for serial and USB connected 300 and 400 series LabelWriter printers (including the Duo and Twin Turbo)

LabelWriter XL and EL Series Print Drivers for Windows 98/ME/2000/XP

This file contains the print drivers for XL and EL series LabelWriter printers

Add-In for QuickBooks Versions 2004-2008

This file contains the DYMO Label Add-in for the U.S. version of QuickBooks 2004 through 2008.  For use with DYMO Label software version 7 only.

Add-In for QuickBooks Versions 2002-2003

This file contains the DYMO Label Add-in for the U.S. version of QuickBooks 2002 through 2003.  For use with DYMO Label software version 7 only.

Software Developers Kit

This file contains the DYMO Label software version 7 (DLS 7) Software Developers Kit (SDK)
| | | | |
| --- | --- | --- | --- |
| File | Description | Read Me First Document | File Download |
| NEW DYMO Label Software Application Version 8.2 for PowerPC AND Intel based Mac OS X including Mac OS X v10.6 Snow Leopard | Software and drivers the LabelWriter 300, 400, and 450 series printers (including the LabelWriter 4XL).  See the Read Me file for a complete list of supported printers. | | |
| DYMO Label Software Application Version 7.8 for PowerPC AND Intel based Mac OS X | Software and drivers for the LabelWriter 300 and 400 series printers | | |
| DYMO Stamps Application for Mac OS X | Software for the LabelWriter 400 Turbo, Duo, and Twin Turbo | | |
| DYMO Label Software Application Version 6.1.1 for Mac OS X | Software and drivers for the LabelWriter EL series (including the Turbo) running Mac OS X | | |
| DYMO Label Software Application Version 5.0.5 for Mac OS 8.6 to Mac OS 9.x ONLY | Software and drivers for the LabelWriter XL, EL, and 300 series running Mac OS 8.6 through 9.x (NOTE: Mac OS 8.5 and earlier are no longer supported) | | |
| Software Developers Kit for Mac OS X | This file contains the Mac OS X Developers Kit for the DYMO Label Software | | |
| | | | |
| --- | --- | --- | --- |
| File | Description | Read Me First Document | File Download |
| NEW DYMO SDK and CUPS drivers for Linux (Version 1.2.0) | This file contains the DYMO SDK for Linux and CUPS drivers for the LabelWriter 400, and 450 series (including the 4XL, Duo and Twin Turbo). See the Read Me file for a complete list of supported printers. | | |
File

Description

Read Me First Document

File Download

NEW DYMO DiscPainter Software Version 1.5 for Windows XP, Windows Vista, and Windows 7

Software and drivers for the DYMO DiscPainter running 32-bit and 64-bit  editions of Windows XP, Windows Vista, and Windows 7

NEW DYMO DiscPainter Firmware Updater for Windows
Windows software for updating the DiscPainter firmware. Updating the DiscPainter firmware MUST be done AFTER installing DYMO DiscPainter Software version 1.5

NEW DYMO DiscPainter Software Version 1.5 for Mac OS X

Software, drivers, and firmware update for the DYMO DiscPainter running Mac OS X v10.4 - 10.6

DiscPainter Update
Click Here

Firmware Update
Click Here

Software for LabelWriter Print Server


| | | | |
| --- | --- | --- | --- |
| File | Description | Read Me First Document | File Download |
| DYMO LabelWriter Print Sever Software Version 1.0 for Windows XP and Vista | Software for the LabelWriter Print Server running Windows XP or Vista | | |
| DYMO LabelWriter Print Sever Software Version 1.0 for Mac OS X v10.4 - 10.5 | Software for the LabelWriter Print Server running Mac OS X v10.4-10.5 | | |
| DYMO LabelWriter Print Sever Software Version 1.0 for Mac OS X v10.3.9 | Software for the LabelWriter Print Server running Mac OS X v10.3.9 | | |
Software for Rhino 6000 and 6500
File

Description

Read Me First Document

File Download

Rhino 6000 and Rhino 6500 Print Drivers for Windows 2000/XP/Vista ONLY

This file contains the print drivers for the Rhino 6000 and Rhino 6500

2000/XP/Vista 32 bit
Click Here

Vista 64 bit
Click Here
Software for USB Compatible LabelPoint and LabelManager
| | | | |
| --- | --- | --- | --- |
| File | Description | Read Me First Document | File Download |
| NEW DYMO Label Software Application Version 8.2 for Windows XP, Windows Vista, and Windows 7 ONLY | Software and drivers for LabelPoint 350, LabelManager 450, and LabelManager PC II printers | | |
| DYMO Label Software Application Version 7.5 for Windows 98 and ME ONLY | Software and drivers for LabelPoint 350, LabelManager 450, and LabelManager PC II printers | | |
| NEW DYMO Label Software Application Version 8.2 for PowerPC AND Intel based Mac OS X including Mac OS X v10.6 Snow Leopard | Software and drivers for LabelPoint 350, LabelManager 450, and LabelManager PC II printers | | |
| LabelPoint/LabelManager 64-bit Print Drivers for Windows XP Professional x64 | This file contains the 64-bit print drivers for the LabelPoint 350, LabelManager 450, and LabelManager PC II printers. For more information please see the Read Me document. | | |
| NEW DYMO SDK and CUPS drivers for Linux | This file contains the DYMO SDK for Linux and CUPS drivers for USB compatible LabelPoint and LabelManager series printers | | |
| DYMO LabelManager Software Application Version 1.7.3 for Windows 98/ME/2000/XP | Software for USB compatible LabelManager series printers | | |
| LabelManager Utilities for Windows 98/ME/2000/XP Only | This file contains the USB print drivers and the utilities to add and remove them | | |