Dymo LabelWriter 4XL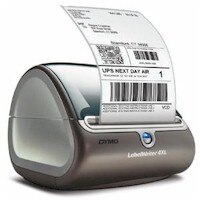 The Dymo LabelWriter 4XL is Dymo's only label printer with a 4-inch wide printhead. The 4XL prints at up to 53 address labels per minute, it prints at 300dpi, and supports Windows XP, Windows Vista (32-bit, 64-bit), Windows 7 and Macintosh (v10.39 and up).



Who buys the LabelWriter 4XL ?
if you need to print 4" x 6" labels and don't want to spend $500+ on a label printer, then the LabelWriter 4XL is for you. The most common application for printing 4x6 labels is shipping labels..... like you see on packages that ship via UPS or fedEx for instance. In addition, this printer enables you to print all the Label Writer label sizes from Dymo, including: Address, Shipping, Filing, Internet Postage, Diskette, CD/DVD, Jewelry, Price Tags, Name Badges.... and the list goes on.

Who buys a different LabelWriter model ?
if you don't need to print anything larger than say a 2-5/16" x 4" (59x101mm) label, then you can opt for the 450 Turbo or 450 Twin Turbo. Both of these print on all the Dymo label sizes (except for the 4"x6" labels) and they print up to 71 address labels per minute.


Dymo LabelWriter 4XL Specs
Model
Dymo LabelWriter 4XL
SKU
1744905 (or 1755120)
Speed
up to 53 labels per minute (4-line address label)
Compatible Labels
Dymo LabelWriter Labels
Windows Compatibility
Windows XP
Windows Vista (32-bit, 64-bit)
Windows 7
Mac OS Compatibility
Mac OS X (10.3.9 and up)
Size
7.3" (D) x 5.3" (H) x 7" (W)
Warranty
2 Year Limited Warranty
Contents
LabelWriter® 4XL Printer
Standard Printer Drivers
USB Cable
Cleaning Card
AC Power Adapter & Cable
User Guide
Quick Start Guide
Starter roll of 4" x 6" LabelWriter shipping labels
LabelWriter 4XL Features
Prints a 4" x 6" labels, plus dozens of existing DYMO LabelWriter label styles and sizes for a variety of office and commercial uses.
Prints up to 53 labels per minute* or 3.2"/second (*4 line address label)
Prints in high resolution - 300 dpi, ideal for text, graphics and barcodes.
Thermal printing needs no ink or toner.
USB Connected - Just use the included USB cable
PC- and Mac-Compatible - Windows® 2000 and XP, Windows Vista®, Mac OS® 10 (10.3.9 or later)
Small footprint - Saves space
Network compatible




*4-line address label.