DYMO LABEL MAKER
"Dymo Label Maker" is a term that could describe any of the different label printers in the Dymo range. There's the pc-attached LabelWriter, the Indusrial RhinoPro, the SOHO LetraTag and the Professional LabelPoint / LabelManager.....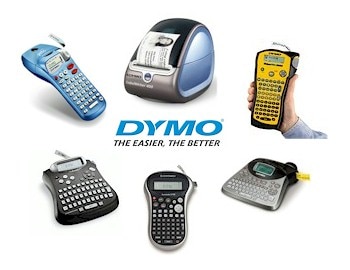 click here to buy Dymo Label Makers
* low price guarantee
The various Dymo Label Makers explained:
DYMO LABELWRITER
PC-attached desktop label printer that eliminates the hassle of printing labels with an inkjet/laser printer.
Direct thermal print technology eliminates ribbons, toner and ink cartridges.
300dpi resolution for laser sharp labels.
perfect for printing Address Labels, Shipping Labels, Filing Labels, Internet Postage etc.
handheld Label printer suited to industrial applications, i.e. factories, electricians, cable installers etc
print on variety of width tapes (3/8" up to 3/4")
permanent plastic labels, flexible nylon labels, heat-shrink tubes
battery powered, or A/C power adapter available too
handheld / desktop Dymo Label printers suited to office/home applications
print on Dymo D1 tapes in a variety of width tapes (3/8" up to 1")
permanent plastic labels, fabric labels
battery powered, or A/C power adapter available too
handheld / desktop Label printer suited to home applications
print on 1/2" wide plastic or paper tapes
battery powered
"LabelWriter" - Would you like to print labels in as little a second? Without tying up your main printer - the one that always jams up with those sheet labels? DYMO LabelWriter printers let you print bar codes automatically with each address -- ensuring your mails zips through post office sorting machines. In addition you can print high-resolution graphics and text. Using a LabelWriter is easy as highlighting an address from a document, clicking the DYMO icon on your toolbar and readying your hand for a label. It's that fast and easy. And because LabelWriter printers print in high resolution 300 dpi with thermal technology, you enjoy professional results within budget - thermal printing requires no replacement of ribbons, ink or toner cartridges. With LabelWriter, the ink is in the label!
"RhinoPro" - The most powerful lablemaker we make for heavy duty applications such as maintenance and repair, warehousing and electrical and datacom applications. The RhinoPRO 5000 offers "Hot keys" that automatically format labels for wires and cables, terminal blocks, patch panels, vertical labels and fixed length labels. Symbol Keys make it simple to add the most commonly used symbols to labels. And Code 39 and Code 128 bar codes handle most needs. Other user-friendly comforts include an impact resistant rubber bumper to protect the printer, a large backlit display, a low battery light with automatic shutoff for longer life, and an attractive yellow color so the RhinoPro 5000 is always easy to find in a crowded workshop, toolbox or van. RhinoPro 5000 prints on a full range of RhinoPro industrial tapes that are specially designed to stick and last to smooth, flat, curved, textured and highly textured surfaces, while resisting solvents, chemicals, moisture, heat or any environmental challenge your worksite presents.
"Letratag" - LetraTag electronic labelmakers in hand-held and desktop models, make fast, simple work of basic administrative labeling chores, as well as chores all through your home, including shelves, cabinets, CDs, even storage boxes.With two different keyboards (see below), easy loading and a "palm-of-your-hand" fit, these electronic wonders are built for comfort. After all, the less hassle they are to use, the more organized you'll be. Both LetraTAG labelmakers feature built-in memory for saving that last label you printed, whether it's paper, plastic, metallic or our new iron-on fabric tape for labeling clothing, backback s and more.
For more information, to find out about current promotions, or to buy the Dymo Label Makers, click here to buy Dymo products