Home > Dymo LabelWriter > LabelWriter SE300

Dymo LabelWriter SE300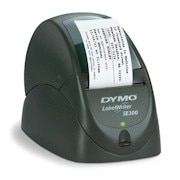 Replaced by LabelWriter 450 Series
The 400 series has been replaced by the Dymo 450 series and following is a list of the replacement models.

Need support or software for your LabelWriter 400 printer?
For tips, software and support on the LabelWriter 400 series see our LabelWriter Tech Support & Tips page. Remember that a lot of issues can be solved simply by updating drivers or software, so this link may just be the solution to your issue.

To enable developers to quickly integrate label printing into applications written in UNIX, DOS and other serial (RS-232) enabled systems, the LabelWriter SE300 connects to any computer or device that can provide output to a standard ASCII printer. Using a simple command language, it easily adapts to custom-written applications and features a simple command language that is easily adapted to custom-written applications and comes with 23 internal bar code symbologies and 5 internal fonts.five internal fonts.

The SE300 is very commonly found in Veterinary practices for printing vet labels, and is also found in medical laboratories for printing lab labels.

Features & Benefits
• 23 built-in bar code symbologies: Codabar, Code 3 of 9, Code 129-Auto, EAN-8/13, Interleaved 2 of 5, POSTNET, UPC-A/E, ITF-14 and many others.
• User-definable height, denisity, positioning and orientation.
• Automatic checksum calculation.
• 5 internal fonts, each printable in regular, double height, double width and double height/double width.
• Prints all standard ASCII characters.
• Accepts bitmap data for printing graphics.
• Internal auto-switching power supply works worldwide.
• Package Contents: SE300 printer, power cord, serial cable, Quick Start Guide, CD-ROM with users guide and sample demo programs.