Home > Dymo LabelWriter > LabelWriter 400

Dymo LabelWriter 400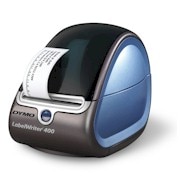 Replaced by LabelWriter 450 Series
The 400 series has been replaced by the Dymo 450 series and following is a list of the replacement models.

Need support or software for your LabelWriter 400 printer?
For tips, software and support on the LabelWriter 400 series see our LabelWriter Tech Support & Tips page. Remember that a lot of issues can be solved simply by updating drivers or software, so this link may just be the solution to your issue.

Just like the 'top of the range' Dymo 400 Turbo, the Dymo 400 accepts all the label sizes in the range allowing you to print labels from a very small 1/2" x 1/2" (13x25mm) right up to 2-5/16" x 4" (60x101mm).

Installing the LabelWriter 400 on your Windows or Macintosh computer is a breeze. Simply attach the printer to a spare USB port on your computer, run the installation program from the Dymo CD and in minutes you'll be printing laser-sharp labels from Dymo's label software or from all your favourite applications - Dymo supplies free plug-ins for Word, Outlook, ACT! and Goldmine (among others) which make printing labels a one-click or two-click process.

Like all Dymo Label Writers, you'll never need to buy ink, toner or ribbons. A Label Writer uses a special thermal printing method for printing labels, meaning that the only supply you will ever need is labels (and the occasional cleaning card).

What's included ??
When you take delivery of your LabelWriter 400 you will have received everything you need to start printing labels. Included are the following items:
· FREE Dymo Labelling Software · FREE Starter Labels · USB cable, Power cable · Quick Installation Guide · FREE Cleaning Card

Technical Information
· Dymo part number: 69100 · Also known as: LW400 or LW 400 · Print method : direct thermal · Print resolution : 300dpi · Print speed : up to 40 address label per minute (standard 4 line address) · Dimensions : 13cm x 14cm x 18cm (H x W x D) · Weight : 2.7lbs (0.6kg)

System Requirements
· Windows PC : Windows 98, ME, XP, 2000, 2003 operating system · Macintosh Computer : OS X · Printer connection : USB Port · Memory : 10Mb hard drive space for Dymo Software and system files · Power : ships with North American power cable · Warranty : 2 year "Return to Dymo" Warranty

In summary, the Dymo LabelWriter 400 is an extremely fast desktop labels printer, capable of printing up to 40 Address labels per minute and can be used for labelling anything from envelopes to jewelry, from packages to CD's, from prescription bottles to video cassettes.....